THE DEVIL HAUNTS ME
v1.2: Content Update + Bug Fixes
---
Hi all,
I just uploaded version 1.2 of THE DEVIL HAUNTS ME! This adds some new content, and fixes up some more bugs. See the patch list below:
Added difficulty selector when you start a new game

Forgiving Mode: when you run out of hearts, you lose some of your resources and teleport back home. if you go 5 days without resources, game over.
Unforgiving Mode: when you run out of hearts, game over. if you go 3 days without resources, game over.

Added 2 new upgrades to find in the world
Made some adjustments to the devil AI
Fixed bug where Game Over screen would flicker if you kept getting hit after you were already dead
Fixed bug where particle effects would spawn as soon as the game started
Fixed bug where energy would go below 0
Fixed bug where even if you ran out of resources for a certain amount of days, nothing would happen.
Changed the color of a specific type of ghosts
Added particle effect when you pick up item upgrades
Removed a stray piece of grass that was floating in the air
And that's it! I hope the difficulty settings will give the game a bit more flexibility for players of varying skill types, while still retaining the game's tension.
Also, if you already have a save file in progress -- don't worry! Your data will carry over to this new version. That being said, if you continue your save file, you will be defaulted to the game's Unforgiving Mode.
I hope you folks enjoy playing! <3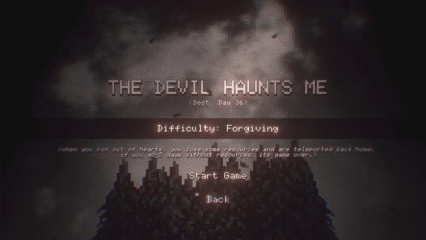 Files
THE DEVIL HAUNTS ME 1.2 (windows).zip
36 MB
Sep 20, 2018
THE DEVIL HAUNTS ME 1.2 (mac).zip
42 MB
Sep 20, 2018
THE DEVIL HAUNTS ME 1.2 (linux).zip
44 MB
Sep 20, 2018