THE DEVIL HAUNTS ME
A downloadable game for Windows, macOS, and Linux
Cut down trees, hunt deer, gather water, and explore the strange woods.
Get the resources you need to survive, one day at a time... but be careful, there's something else in these woods...
ARROW KEYS - to move
Z - to use items
C - to zoom out
ESC - to access menu
/ / / / / / / / / / / / / / / / / / / / / / / / / / / / / / / / / / / / / / / /
THE DEVIL HAUNTS ME was created for A GAME BY ITS COVER (2018); "an annual game jam about turning the fictional cartridge art of the My Famicase Exhibition into the real thing."
This game was inspired by this Famicase design: http://famicase.com/18/softs/185.html
/ / / / / / / / / / / / / / / / / / / / / / / / / / / / / / / / / / / / / / / /
Thanks for checking out my game!
If you find any bugs, please kindly let me know in the comments section below. I'll try my absolute best to address them!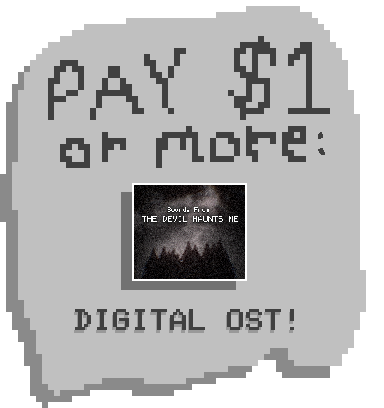 ...and if you're in a comfortable financial position, consider giving a dollar or two! You'll also nab a digital copy of the game's OST (8 songs, and 2 sfx)! But don't feel bad if you can't/don't want to pay :)
Download
Click download now to get access to the following files:
THE DEVIL HAUNTS ME 1.2 (windows).zip
36 MB
THE DEVIL HAUNTS ME 1.2 (mac).zip
42 MB
THE DEVIL HAUNTS ME 1.2 (linux).zip
44 MB
Sounds From THE DEVIL HAUNTS ME.zip
16 MB
if you pay $1 USD or more
Comments
Log in with itch.io to leave a comment.
REALLY fun game, most likely going to play it again, is there a way to kill that thing?
Thanks so much for playing! And uh... I'll be vague, and just suggest that you try to explore the world a bit more ;)
Awesome! It looks like the UI got cut off in your video though, not sure if that's a bug or if its just how you recorded. Either way, I'll take a peak at that when I get the chance. Thanks for playing :)
This was honestly one of the best game jam games I've played in a while (and I play a lot of game jam games). I made it about 7 days or so and explored three islands. I definitely would have played it all the way to completion if not for the permadeath. I respect the choice to design the game that way, but I was really starting to get in to things when I unfortunately died.

My only issue was the lack of water early on. Given the slow-ish movement speed and very small energy bar, it was a big hassle having to first build a bridge (when you're still learning what to do) and then truck water for minutes at a time to bring it home. Is there any penalty for not having enough resources when you go to sleep? There were a few times when I was missing one resource or the other and aside from a comment it seemed to be mostly forgiven.

Anyways, I thought this one was great! I enjoyed my time with it so I put together this short video. I'll keep an eye out for more cool stuff from you in the future!


Thanks so much for playing, I'm glad you enjoyed it! If you go too many days without a resource, you will die! The amount of days you can go without resources is pretty generous though. I hope you decide to give the game another play through at some point :)
Ah, gotcha. Who knows if I'll have the patience to hop back in anytime soon, but I'll be looking forward to your future projects. Good luck with everything and keep up the great work!

Hang out in the bed for a few seconds, when you are low on energy! The screen will start to fade to black.
I defeated the devil, but I got warped outside of the main island (the one with the sky background) and now I can't access the thing. I think I was moving around as it died and that messed up the teleport. I've tried quitting only to be taken back to the main game where I can defeat the devil again, but am teleported exactly to where I was previously. in the second map. I would post an image, but I'm trying to avoid giving any spoilers away here. I hope you can look into this, I'm probably going to restart in the meantime.

Damn. Thank you so much for letting me know. That is a bug I was aware of but I *thought* I fixed. Obviously it still isn't fixed! I'll try to get a proper fix for that soon!
Just wanted to let you know that I uploaded a new version of the game. The bug you mentioned should be fixed now :)
Fun, but I want to know if there's definitive end in the game, an objective to pursue, or a bit of story further in?
There is a definitive ending to the game. There are some hints on how to get it on the different islands. It requires a lot of exploration!
Thanks for playing though! :) Seeing videos of my games is always a lot of fun.